What a trip! Italy's Amalfi Coast is as gorgeous in person as it appears in all those iconic pictures you've seen – sheer cliffs dotted with colorful structures right down to the sea below! I must have 50 pictures on my phone of the same view – the one from our rental apartment that I couldn't believe!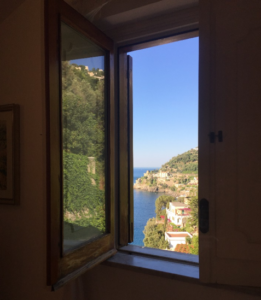 That apartment sat in a lemon grove up the 'hill' from the town of Minori. Lemons hung within arm's reach and we were told to help ourselves. That we did, enjoying lemon water all day long and making lemon vinaigrette for our evening salads. Those salads were created from heads of romaine plucked from beneath the lemon trees. We added diced, shredded, or julienned zucchini from that same garden. What a joy to have all that fresh produce at our fingertips.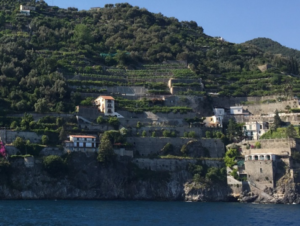 To my mind, the beauty of Italian food is its simplicity – fabulous sun-kissed ingredients assembled to highlight the essence of each – the tomato or lemon or basil. One night's dinner, which we enjoyed under the lemon trees as the sun set, consisted of homemade fettucine noodles tossed with a simple lemon sauce, finished with some 'leftover' salami picante and baby arugula – nothing exotic but utterly delicious and truly 'of that place.'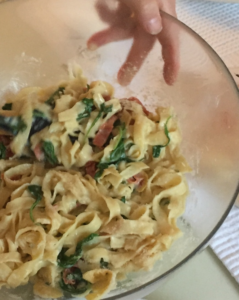 Although eating was the main pastime, I also indulged in shopping. This is where the shoes mentioned in the title fit into this picture. Italian leather and craftsmanship are evident all along the Amalfi Coast especially in the custom-made/fitted sandals featured in Positano, Capri and other smaller towns. For a chef with small feet who rarely finds any shoes (much less fancy ones) that fit, I was in heaven. I splurged on two pairs of sandals made on the spot that fit my odd little feet perfectly. Wow – icing on the proverbial vacation cake!
Lastly, a recipe for you featuring lemons, of course!
Lemon Vinaigrette
Ingredients
1 teaspoon lemon zest
3 tablespoons FRESH lemon juice – none of that stuff from the plastic squeeze lemon!
9 tablespoons fruity olive oil
pinch of salt
big pinch of pepper
OPTIONAL ADD-IN: 1 tablespoon freshly minced mint or basil
Instructions
Place all ingredients in a small bowl or jar and whisk/shake until totally emulsified. Store at room temperature for about 3-4 days.
Use to dress a salad composed of torn romaine, baby arugula, shredded zucchini, minced red onion, chickpeas, tomatoes (only when they taste like tomatoes - that is, when they are in season), shredded pecorino cheese and/or whatever suits your fancy.
Enjoy!